Aneth Flores Gonzalez
Aneth Flores Gonzalez is originally from Jalisco, Mexico, where she grew up and completed her basic studies. She moved to San Ysidro at the age of 17 and studied in Southwestern College from where she graduated with Associates' degrees in Criminal Justice and Dance in Spring 2017. Aneth is a very dedicated student and an active community member majoring in Legal Studies. Her long-term plans are to attend law school so that she can serve her community as an attorney.
Angela Vo
Angela Vo is an English major planning to attend medical school in the near future. As a young girl, she lost both her parents to lung cancer, so she understands the importance of medicine and the necessity of health care in underprivileged communities. To give back to the communities that raised her, Angela is a prominent member of the West Coast Sports Medicine foundation which provides free medical care to at-risk youth. Angela hopes that one day, all children will be able to get the medical attention they need.
Clarissa Marquez
Clarissa Marquez is a transfer student from East Los Angeles majoring in Political Science with an intended minor in International Human Rights. Previously, she interned for various political action unions such as the American Civil Liberties Union and the American Federation of Teachers. Clarissa wishes to continue her work in racial politics and global justice. Her research project will focus on the latent consequences of militarization on a global and national level and prescriptive models for peacebuilding. Upon completing her undergraduate degree, Clarissa intends to complete a joint JD/MPP program.
Forrest Ponsot
Forrest Ponsot is a transfer student studying philosophy. At his previous college, Forrest formed a philosophy club that primarily focused on underrepresented figures in philosophy, spoke at activist panels, and promulgated issues of human trafficking. He's currently interested in the contemporary ethical evaluations of sex work, feminist philosophy, and the ways in which public policy ought to reflect our ethical conclusions.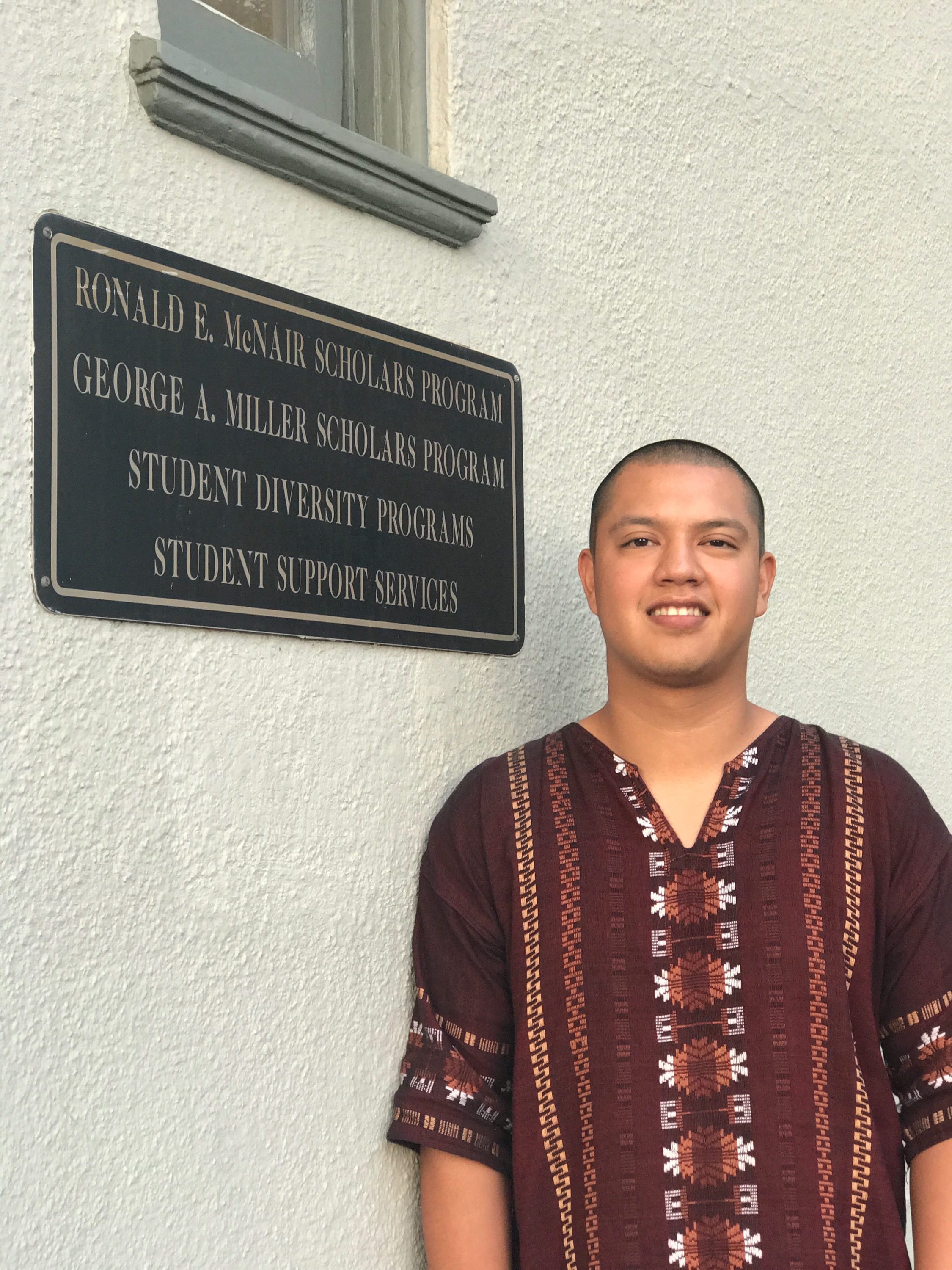 Abel Fernando Vallejo Galindo
Abel Fernando Vallejo Galindo studies Sociology and is a member of the Underground Scholars Initiative at Cal. He was born in a rural village in Oaxaca, Mexico. Due to the continuum of adverse experiences he experienced as an undocumented student growing up with a single mother, his research will focus on the incarceration of undocumented youth and the relationship between the school-to-prison pipeline and deportation. He will continue to advocate for youth and policies which improve their lives.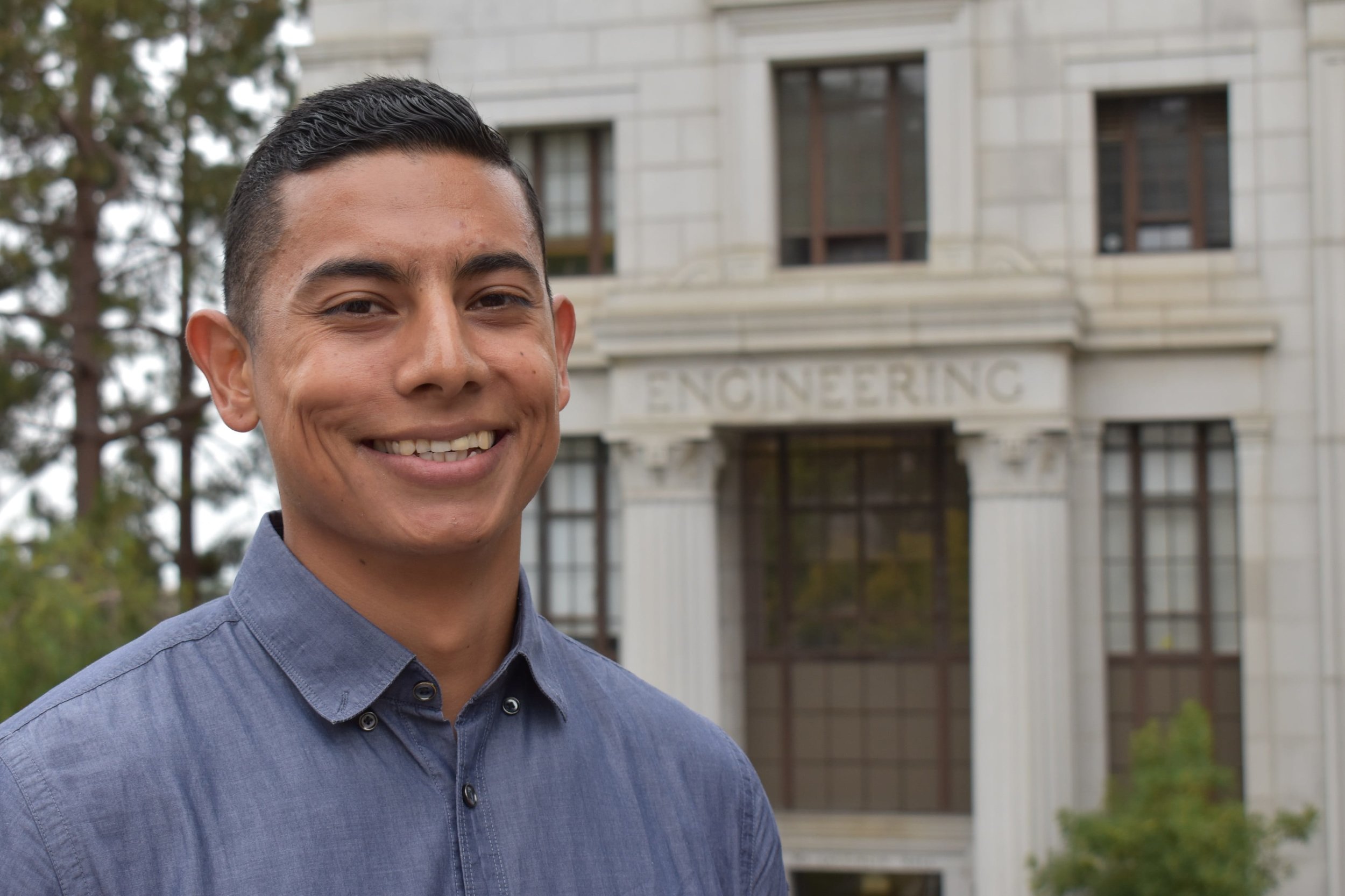 Jessie Gross
Jessie Gross is a junior majoring in Electrical Engineering and Computer Science. Before transferring to UC Berkeley, Jessie volunteered as a STEM tutor at Los Angeles City College's Office of Special Services. There, he was inspired by the assistive technology for blind and hearing-impaired students, but realized that those tools have not yet reached their full potential because some students using them still struggled academically. His mission is to develop improved assistive technology that will more fully address the needs of people with disabilities.
LaLa Speights
LaLa Speights is a student parent who transferred from El Camino College in Torrance, CA. She has an Associate's degree in French, and two General Studies AAs. The latter have emphases in Culture & Communication and Social & Behavioral Sciences. LaLa intends to major in Linguistics at UC Berkeley and minor in Anthropology. While at Cal, she wants to conduct research in English-based creoles of the African diaspora in the U.S. and Caribbean. Her interest in sociolinguistics is inspired by the Sea Island Creole of her home along the coasts of Georgia and South Carolina. Upon earning a graduate degree, LaLa plans to participate in the language revitalization effort for other creoles at risk of extinction.
Pablo Paredes
Pablo Paredes is a seasoned community organizer and co-founder of active Youth Leadership and Development groups including: B.A.Y.-Peace (Better Alternatives for Youth) and the 67 Sueños collective. He hopes to combine a degree in ethnic studies and his background in community and youth organizing to become a capable educator and advocate building transformative educational models that can support the growth of low-income youth of color.
Shakiba Mashayekhi
Shakiba Mashayekhi is a junior double majoring in Global Studies and Philosophy. As an Iranian-born immigrant who moved to the States at the age of nine, her interests lie in Human Rights, particularly in the Middle East. Shakiba's experiences in Iran and her passion for philosophy, poetry, and the human narrative have driven her to pursue a degree in International Law after completing her undergraduate studies.
Victor Hugo Zendejas Lopez
Victor Hugo Zendejas Lopez transferred from Chabot College, and is majoring in mechanical engineering. This past summer, Victor conducted research at the Sustainable Plasma Gasification Lab at UC Merced where he studied the effects of the application of Dielectric Barrier Discharge Plasma (DBDP) on the breakdown of Tars during the biomass gasification process. Victor is interested in researching sustainable technologies and alternative sources of energy to meet our future needs. He hopes to continue his studies and obtain his PhD in mechanical engineering.